MT Iron Hydroxide Desulfurizer
Product Detail
Mingshuo Environment
Product Tags
MT Iron Hydroxide Desulfurizer
Adopting industrial synthetic iron hydroxide as main active component, then added with special additives, the breakthrough sulfur capacity of MT iron hydroxide desulfurizer is larger than 30% (Tested 37.76% according to HG/T4354-2012 standard). This product is mainly used for hydrogen sulfide removal from gases, especially natural gas, shale gas, oilfield associated gas. Sometimes it's also called H2S adsorbent, H2S scavenger, etc. Beijing Sewage Treatment Plant is using it for H2S removal from biogas produced from anaerobic digestion process.
Performance and Charac teristics
1. Simple structure, low investment, long service time
2. No power consumption, can be used in remote areas
3. Easy to manage, dispense with staff on duty, reliable operation, strong adaptability, small bed resistance
4. Replacement at fixed period, one use one standby, alternate operation, regenerable
5. High efficiency, high precision of desulfurization (easy for 50ppm, 1ppm possible)
Application:
Hydrogen sulfide removal from gases, such as biogas, natural gas, shale gas, oilfield associated gas, landfill gas etc. It can be used in biogas plant, starch plant, sewage treatment plant, paper mill, oil & gas filed, winery, brewery, gas treating, processing and other industries in the purification system.
---
---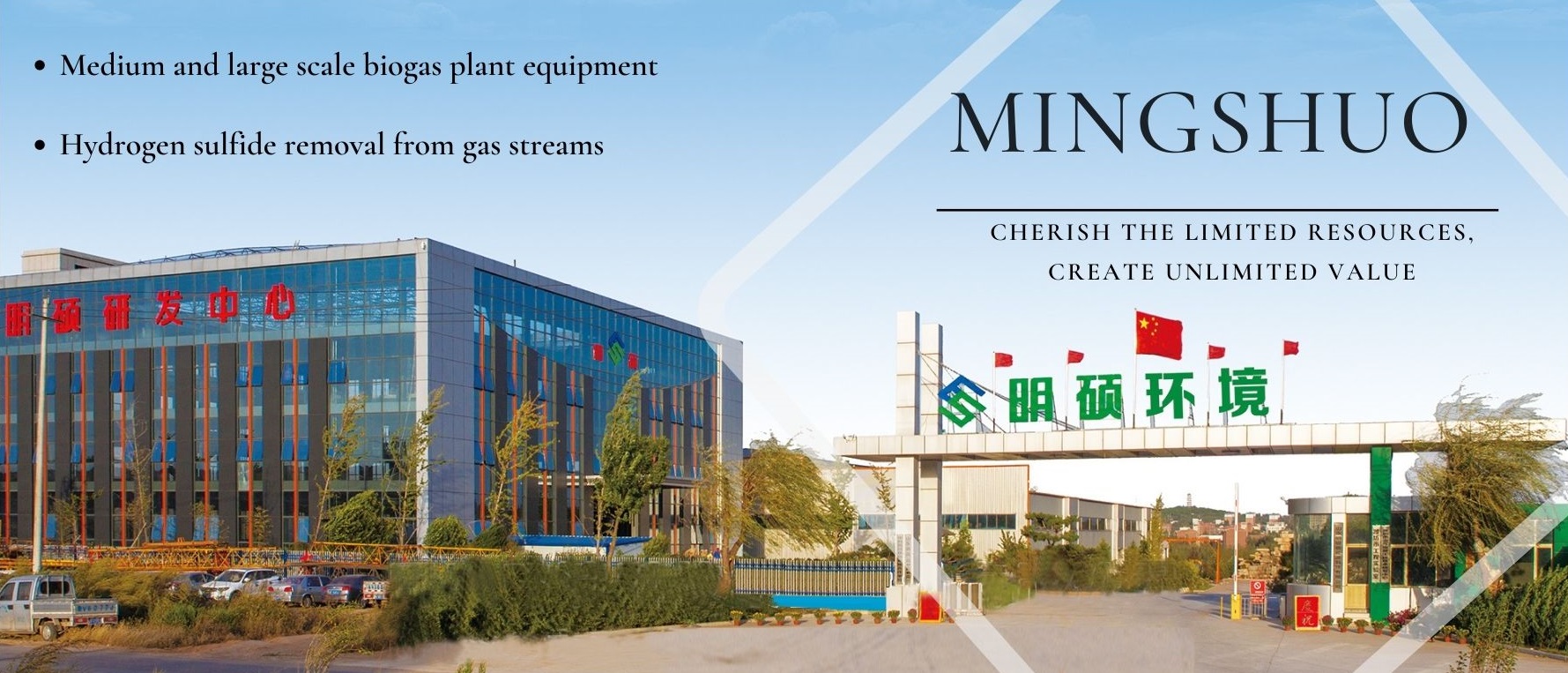 With a registered capital of CNY 88 million, Mingshuo Environment Technology Group Co., Ltd. is founded in 2004. It is a high-tech enterprise dedicated to purifying sulfur-containing gases and realizing high-value utilization of organic wastes.
Adhering to the corporate spirit of integrity, innovation and mutual benefit, Mingshuo has gradually developed into a high-tech enterprise integrating R&D, consulting, design, manufacturing, construction and operation. It can provide comprehensive and sustainable "one-stop" environmental services and overall solutions. The Group has passed ISO quality control, environmental management, occupational health and safety management system certifications, has professional construction qualifications for environmental engineering, D type pressure vessel manufacturing qualifications. It is also "Weifang Enterprise Technology Center", "Weifang City Desulfurization and Denitrification Engineering Laboratory", "Weifang City Biogas Equipment Engineering Technology Research Center". The products have won the honorary titles of "China Green Products" and "China Famous Brand". The chairman of the Group won the honorary title of "Shandong Province Circular Economy Person of the Year".
Mingshuo's products are divided into three series: desulfurizer and desulfurization equipment, biogas equipment, titanium, nickel and the like pressure vessel equipment. The desulfurizer and desulfurization equipment are mainly used for the treatment of biogas, natural gas, oilfield associated gas, shale gas, and other sulfur-containing gases for users in the fertilizer, coking, steel plant, and petroleum refining industries. The biogas equipment is mainly used for the treatment of organic waste such as livestock and poultry manure, kitchen waste, organic waste, straw and sewage. It realizes high-value utilization and turns waste into treasure. Titanium, nickel and the like pressure vessel is mainly used in oil refining, pharmaceutical, fertilizer, desalination, chemical and other industries. The Group has long-term cooperation with large domestic enterprises such as CNPC, Sinopec, COFCO, CSSC, Energy China, Beijing Drainage Group, INFORE ENVIRO, China Huadian Corporation Ltd., and Weichai Group. The Group has independent import and export rights, and has provided complete system services for lots of customers in the United States, Japan, Malaysia, the Philippines and other countries along the Belt and Road.
Mingshuo Environmental Group is committed to the development of environmental undertakings, always adhering to the development concept of "Cherish the Limited, and Create the Infinite", and wish to go hand in hand with you to create a better future!