Blast Furnace Gas Desulfurization for Steel Making Mill
Product Detail
Mingshuo Environment
Product Tags
Blast furnace gas fine desulfurization
Blast furnace gas is a by-product produced in the ironmaking process, and its main components are carbon monoxide, carbon dioxide, nitrogen, hydrogen, methane, etc. In addition to the above components, blast furnace gas also contains a certain amount of sulfides. The main component of sulfur in blast furnace gas is organic thiocarbonyl sulfide COS, which contains trace CS2 and a small amount of inorganic sulfur H2S.
Blast furnace gas composition
CO (V%) 25-30
H2 (V%) 1-3
CH4 (V%) 0.1-0.5
N2 (V%) 55-60
CO2 (V%) 9-15
O2 (V%) 0.1-0.4
COS (mg/Nm3) 50-200
H2S (mg/Nm3) 10-50
Blast furnace gas characteristics
1. Blast furnace gas has a large gas volume, high organic sulfur content, and a large amount of water vapor.
2. The main forms of sulfur in blast furnace gas are COS and H2S, of which COS accounts for about 70%, H2S accounts for about 30%, and the total sulfur content is about 180 mg/m3.
3. Blast furnace gas has many non-combustible components, less combustible components (about 30%), and low calorific value, generally 3344-4180 kJ/Nm3.
4. Blast furnace gas is a colorless, odorless, and odorless gas that is extremely toxic due to its high CO content.
Blast furnace gas desulfurization
According to the composition of blast furnace gas, the composition of flue gas after gas combustion is calculated. SO2 should reach the ultra-low emission standard of 35 mg/m3, and the total sulfur in blast furnace gas should be controlled below 20 mg/m3.
Process technology: organic sulfur hydrolysis + iron oxide dry desulfurization
The organic sulfur conversion device is set up under the conditions of relatively high gas pressure and temperature before the power generation device, and the organic sulfur in the blast furnace gas is first converted into hydrogen sulfide (H2S), and the converted hydrogen sulfide (H2S) is removed by iron oxide dry desulfurization process.
The blast furnace gas takes advantage of the favorable conditions of relatively high pressure and temperature (temperature 100-180ºC, pressure about 200kpa), and sets up a targeted pretreatment device for blast furnace gas to remove dust, oil, heavy metals, inorganic chlorine, and other impurities in the gas.
After that, an organic sulfur conversion device is set up, and the water vapor in the blast furnace gas is used for the conversion reaction of the organic sulfur to generate hydrogen sulfide (H2S) to complete the conversion of the organic sulfur, and then the blast furnace gas goes to the residual pressure power generation device (TRT).
After the blast furnace gas is cooled and decompressed by TRT, the temperature is about 40-80ºC, and the pressure is about 10-20kpa. At this time, a dry fine desulfurization device is set up to remove hydrogen sulfide (H2S) in the gas, and the outlet is below 10mg/Nm3 to ensure that the sulfur dioxide (SO2) in the exhaust gas after the blast furnace gas is burned up to the standard discharge.
Process advantages
Short process route, simple operation, small investment, no waste water.
Reaction principle
1. The principle of organosulfur catalytic hydrolysis:
COS + H2O = H2S + H2O
CS2 + 2 H2O = 2 H2S + CO2
2. The process of iron oxide absorbing hydrogen sulfide
Fe203.H2O + 3 H2S = Fe2S3.H2O + 3 H2O (1)
Fe2O3.H2O + 3 H2S = 2 FeS + S + 4 H2O (2)
---
---
---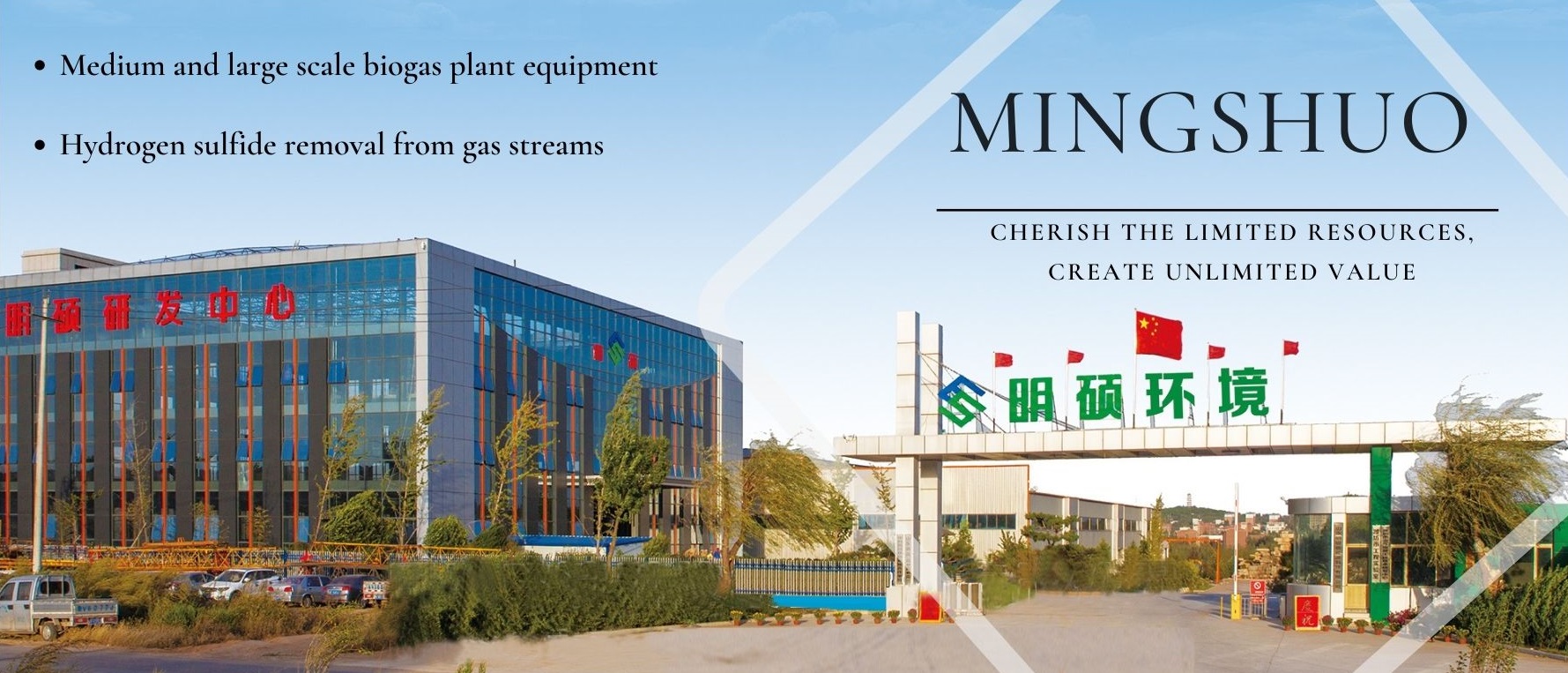 With a registered capital of CNY 88 million, Mingshuo Environment Technology Group Co., Ltd. is founded in 2004. It is a high-tech enterprise dedicated to purifying sulfur-containing gases and realizing high-value utilization of organic wastes.
Adhering to the corporate spirit of integrity, innovation and mutual benefit, Mingshuo has gradually developed into a high-tech enterprise integrating R&D, consulting, design, manufacturing, construction and operation. It can provide comprehensive and sustainable "one-stop" environmental services and overall solutions. The Group has passed ISO quality control, environmental management, occupational health and safety management system certifications, has professional construction qualifications for environmental engineering, D type pressure vessel manufacturing qualifications. It is also "Weifang Enterprise Technology Center", "Weifang City Desulfurization and Denitrification Engineering Laboratory", "Weifang City Biogas Equipment Engineering Technology Research Center". The products have won the honorary titles of "China Green Products" and "China Famous Brand". The chairman of the Group won the honorary title of "Shandong Province Circular Economy Person of the Year".
Mingshuo's products are divided into three series: desulfurizer and desulfurization equipment, biogas equipment, titanium, nickel and the like pressure vessel equipment. The desulfurizer and desulfurization equipment are mainly used for the treatment of biogas, natural gas, oilfield associated gas, shale gas, and other sulfur-containing gases for users in the fertilizer, coking, steel plant, and petroleum refining industries. The biogas equipment is mainly used for the treatment of organic waste such as livestock and poultry manure, kitchen waste, organic waste, straw and sewage. It realizes high-value utilization and turns waste into treasure. Titanium, nickel and the like pressure vessel is mainly used in oil refining, pharmaceutical, fertilizer, desalination, chemical and other industries. The Group has long-term cooperation with large domestic enterprises such as CNPC, Sinopec, COFCO, CSSC, Energy China, Beijing Drainage Group, INFORE ENVIRO, China Huadian Corporation Ltd., and Weichai Group. The Group has independent import and export rights, and has provided complete system services for lots of customers in the United States, Japan, Malaysia, the Philippines and other countries along the Belt and Road.
Mingshuo Environmental Group is committed to the development of environmental undertakings, always adhering to the development concept of "Cherish the Limited, and Create the Infinite", and wish to go hand in hand with you to create a better future!